SANTA BARBARA, CALIF. (PRWEB) JUNE 27, 2022
USDM Life Sciences (USDM) announced that Google Cloud Platform achieved its Cloud Assurance Certification, satisfying 34 worldwide health authorities' nonfunctional requirements and supporting functional requirements, as defined in over 6,500 regulatory requirements.
Cloud Assurance Certified technology vendors must undergo the rigorous compliance, security, and data integrity assessment by USDM, remediate any gaps, and demonstrate compliance with the consolidated global health authority statutory and regulatory requirements. To become Cloud Assurance Certified, USDM performed a comprehensive and independent assessment of the Google Cloud technology stack, validating the design, development, testing, qualification, maintenance methodologies, and processes used to develop the infrastructure and the regulated functionality.
USDM utilizes its proprietary USDM Compliance Matrix to identify the relevant global regulations and standards in life sciences like the FDA's 21 CFR Part 11 and Predicate Rules, EU's Annex 11, GDPR, Health Canada, and Australia TGA and many others, which Google's life sciences customers are required to meet.
GCP also passed the post-release compliance testing and release management assessment activities performed by USDM to maintain continuous compliance. The certification demonstrates Google Cloud's commitment to advancing in pharmaceutical, biotechnology, and medical device organizations by achieving the highest level of compliance.
"Google Cloud is committed to being the industry's most trusted cloud provider and our compliance certifications and reports help our customers accelerate innovation and digital transformation," said Rani Urbas, Global Head of Enterprise Trust. "We are excited to add USDM's Vendor Assurance Report to our compliance portfolio and enable our life sciences customers to efficiently evaluate our posture and meet their regulatory and compliance obligations."
USDM's Vendor Assurance Report can be leveraged as regulatory evidence and help streamline the audit, assessment, and assurance processes required by both the customer and Google Cloud. Additionally, USDM offers its flagship Cloud Assurance subscription to offload the qualification and release management to achieve continuous compliance with the Google Cloud Platform.
"USDM is the most trusted name in life sciences, and we maintain cloud compliance for hundreds of customers every day so they can focus on getting their medicines, therapies, and products to market faster," said Kevin Brown, CEO of USDM. "We've always believed in advancing and simplifying compliance to enable our customers and technology partners to turn regulation into innovation and have been using a CSA and infrastructure building block compliance methodology for years."
USDM Cloud Assurance Certified auditors are independent, non-governmental, global teams who confirm health authority statutory and regulatory requirements to ensure quality, safety, and intended use of technology solutions worldwide. USDM's advanced Certified SCRUM teams, Google Certified Solution Architects, and Google Cloud Testers, combined with our regulatory expertise, bridge the gap between quality and technology to make game-changing innovation possible.
For more information on USDM's Cloud Assurance program or if you are a technology provider interested in becoming certified, you can learn more here.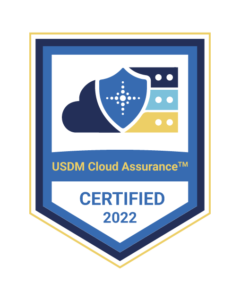 About USDM Life Sciences
At USDM Life Sciences, our purpose is to bring clarity and action to the interplay of technology and regulations to help biotech, pharma, and medical device companies deliver trailblazing outcomes. We help our customers use cutting-edge technology to increase their speed to market while ensuring continuous compliance and patient safety. For more information, visit http://www.usdm.com.