Microsoft enables high-performance computing for life sciences
Helping life sciences companies achieve high-impact business outcomes with Microsoft.
Microsoft empowers life science companies to reimagine ways to bring together people, data, and processes to advance scientific innovation, market products faster, enable virtual teams' success, and improve operational and patient outcomes. Microsoft and USDM Life Sciences enable regulated businesses to transform their GxP workflows into the cloud with USDM's Cloud Assurance for the Microsoft Azure Platform. 
 
Your business depends on every layer of your technology to comply with FDA and global regulations for software assurance. From your infrastructure to data centers to the platform layers and many business applications that power your productivity, Microsoft and USDM can ensure your operation is continuously compliant.  
Read our case study to learn how USDM helped a Top 5 global pharmaceutical company create a validated Artificial Intelligence (AI) framework for Microsoft Azure. 

USDM's Approach
Our approach to regulated workloads in the public cloud covers end-to-end technology solutions to transform your regulatory operations from a cost-center to an innovation hub. Our building block delivery model addresses SaaS (business applications), PaaS (cloud services), and IaaS (global infrastructure). 
The image below shows how Cloud Assurance supports the compliance requirements of your Azure infrastructure and Microsoft cloud applications with USDM's building block approach.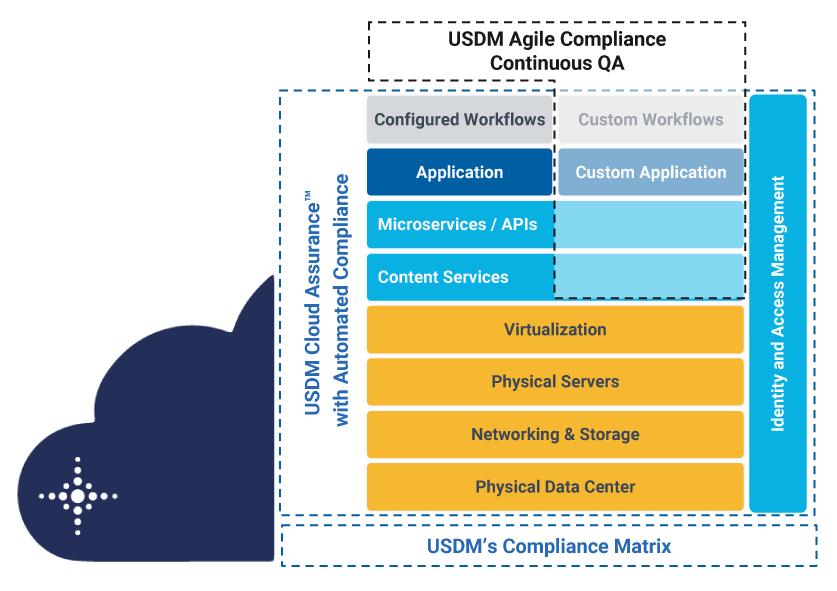 To learn more about Cloud Assurance for Microsoft Azure, visit the Azure Marketplace.
USDM Cloud Assurance for SharePoint M365
Leverage your IT investment for GxP-compliant content management 
USDM can optimize your existing SharePoint M365 application to include the management of GxP-regulated content. By utilizing our best practices, we will significantly decrease your implementation and validation efforts of SharePoint M365. Further, USDM's Cloud Assurance managed subscription will maintain compliance with all your SharePoint M365 releases so you can keep innovating in a continuously compliant state. 
How USDM Cloud Assurance for SharePoint M365 can support your business process: 
Fast-track your implementation with project management experts who can guide you in pre-implementation work through end-user training

 

Provide your organization with a comprehensive Vendor Assurance Report to save time and effort with your vendor requalification endeavors

 

 

USDM best practice Configuration Specification for Part 11 / Annex 11 compliance allows you to rapidly configure SharePoint M365 E5 for site collection, secure with E5 Azure Active Directory, and use

DocuSign

for workflows and electronic signatures 

 

USDM automated verification and qualification testing relieve your testing effort while providing the documented summary and traceability evidence you need for compliance 

 

Utilize our SharePoint M365 Standard Operating Procedures (SOPs) to ensure tasks are performed according to approved procedures

 
USDM Cloud Assurance ensures your validated SharePoint M365 environment maintains a continuous state of compliance through all releases, patches, and changes

 

Develop your business content governance structure and efficiently map to SharePoint M365 workflows 

 

Significantly reduce implementation and validation time while decreasing the cost to manage cloud compliance

 

Leverage critical organizational change management, training, and communications support to ensure your IT investments are successfully adopted

 
USDM can accelerate your business transformation from trees to technology using SharePoint M365 in a GxP-compliant way! Read our blog, Validating SharePoint for Life Sciences Regulated Environments, for more information. 
Learn more about our compliance services for emerging and start-up life sciences companies here. 
Contact us to get started today! 
Additional SharePoint Resources